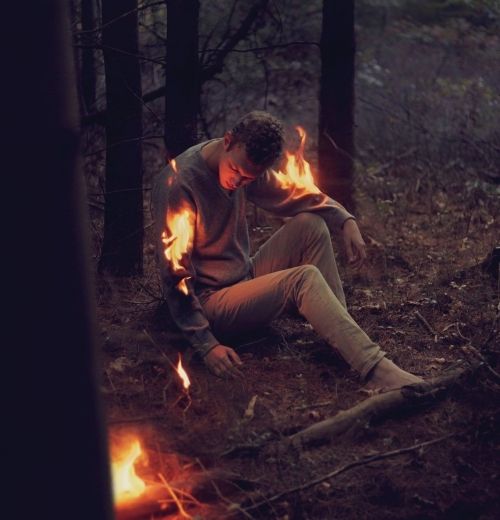 He haunts the shared lands less and less as his desire to go home grows.

Nevertheless, he is drawn to the river tonight.  It curves across the new land like a broken smile, slowly breaking down the earth that swaddles it like a mother.  He knows - like him - it must be a violent thing below the surface.  Knows that the glittering, gliding surface betrays what must be hard actions underneath to so corrode the land.  Perhaps that is why he is so taken by the sight of it tonight, drawing through the hills like a single, powerful finger of destruction.  He is all too familiar with unintentional violence.  He knows the flow of blood, knows the copper tang of it soaking his tongue. 

He is here tonight in penance, to wash his mouth of his transgressions.

So Sabrael toes the riverbank, the crush of gravel shifting with his hesitation.  Because is it his fault if he is a stranger in his own skin?  Is he responsible if the beast is quicker than him, stronger than him?  A sigh breaks the silence.  The water gathers around his ankles, his shoulders, as he sinks into it.

The frigid water purges his sins and his thoughts both.  He thinks nothing of Ischia, erases the ache for home and hearth for at least a spell.  He thinks only of this moment and the strong current that pulls at his feet at the deepest part of the river.  It takes all of his concentration to keep his legs planted against the force that sends debris bumping and crashing into him.  Some part of him wonders if he will be absolved alone tonight.  Another part wonders if the night will give him reason to wash again.      


Sabrael