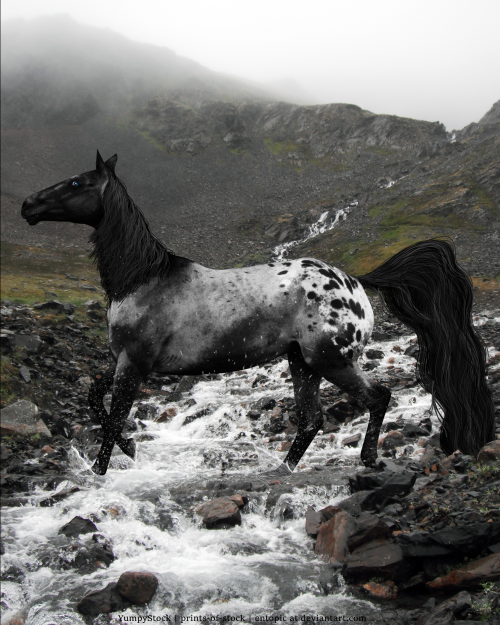 She'd laughed to herself, making jokes about "oh, they're just taking their time," and "ah, I'm about ready for you to show up already!" She'd waddled around emerald fields, cursing the sunshine she used to bask in, searching for the one very specific wildflower for which she had a craving. She had thought about it ever since she'd gained the gradual (terrifying) awareness that her stomach was growing disproportionately, felt the fluttering sensation as tiny hooves moved inside her abdomen. Given, it wasn't very fluttering these days. Sometimes her foal kicked so hard that it would wake her in the middle of the night. Really, objectively, it was a troublesome little thing, but she'd grown rather fond of it despite herself. She'd catch herself humming now and then, which wasn't too uncommon- but they weren't songs from the dark green world she missed, they were lullabies she'd thought long lost to her memories. She daydreamed of a little foal that varied in appearance, but always retaining those incredible yellow eyes. Predator's eyes, perhaps, but to the spotted mare, they reminded her of a man she couldn't stand to forget.
 
Certainly, she had dreamt these things, and fussed at the non-appearance of her child, but now all she was left with was fear.

Fear, and pain.
 
She'd walked in the ocean this morning, enjoying the way the saltwater felt as it rolled across her swollen legs. Now, however, she roamed the line of the cliffs on a mission, seeking out a spot she'd discovered only weeks ago. Annoyed with her failure to mark the place, she paced with purpose, occasionally grunting quietly as another one wracked her abdomen. She refused to call them by name- contractions- as that was somehow more real, more terrifying. She spied the familiar cave entrance finally and sighed with relief, only to feel warm fluid begin running down her hind legs as her water broke. Wide-eyed, she hurried to the cavern, ignoring the comedy of an enormously pregnant mare attempting to waddle down the beach. What a mess you've gotten yourself into now, she thought, cursing everything from his beautiful face to her own lack of experience. Such a fool to think that she was old enough, or good enough, or brave enough for this. Here she was, utterly alone, about to face the most terrifying thing she could imagine, and she was so profoundly unprepared. She trembled a little as she entered the cool little pocket of stone, feeling helpless. She had no time to waste on moping, however. Her stomach began to contort itself in horrifying new ways, working its wicked magic to force her foal into the land of the living. She hardly had time to find a smooth area of the floor before her knees buckled, and she found herself splayed out, groaning and pushing. The pain was unbearable, pulling her from the world she inhabited into a primal state of existence.
 
How easily we forget that life comes at a price.