Azar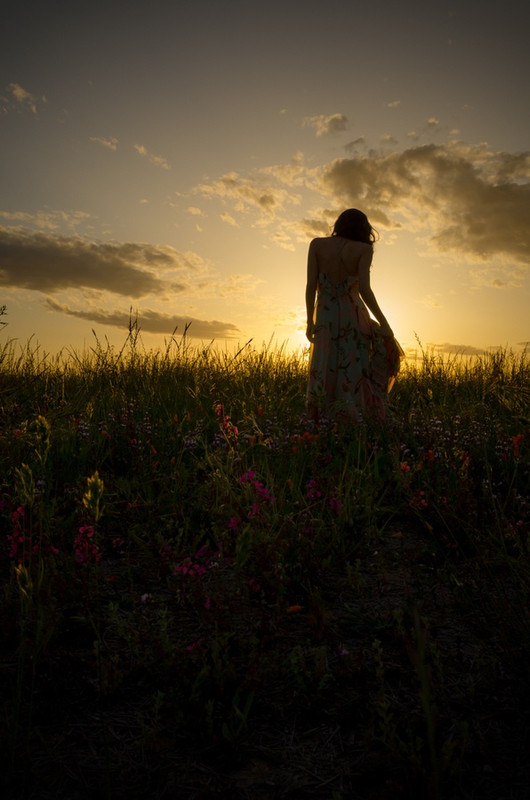 The willowy girl was no longer such a willowy girl. A willowy young woman, now.

She had no notions of where her daddy had gone, the bear-man that had adopted her, raised her. She'd lost him after the apocalypse stole the first Taiga away and left this one in its wake. In truth, it was not that much different, now that the land had had time to recover. Perhaps quicker than the people who had lived here Before. She hadn't seen any but herself return, but then, she wasn't really looking either.

There was a beast she did avoid, though. Often taking flight the very moment she caught his scent.
He was frightening. A predator.

She was less afraid to fly now that she'd had the time to practice, and she had no opinion on the fact that her soft-feathered wings disappeared when she did. The moment her feet were off the ground, they just simply vanished as though they had never been.

She wasn't flying today, though. Not yet. Later, she would. For now she was only out in a quiet clearing in the forest, gazing sweetly at dainty little butterfly friends that danced around her dark mane. Her coat had always been a bit dark too, a pretty bay red except around her roaned middle, but lately it had gotten a little lighter. A faint lavender sheen brushed over her ribs, her face and legs still as dark as a natural bay, her hair still dark. For now.

Like the rest of the world, as nature often did, she would change with time.

She didn't speak to them aloud, all the forest creatures that had long accepted her as harmless, as one of their own. A friend. Instead, she spoke their language, a language she vaguely remembered the leader of this place used to speak. She could hardly recall him now, only the bright blue of his eyes set in a dark, handsome face. Forest critters like her often didn't hold on to such memories, and so that was the most of his appearance she could recall, and didn't spend time on wondering what else she remembered.

She did remember her little brother, the baby bear. She would always miss him, though she'd only seen him so briefly. Still did, sometimes. Without disturbing the family he's found. Perhaps he had grown up to be an enemy, even. On that thought, she hoped she'd never know. But she missed him just the same, that wild and playful light in his eyes, the way he looked just as the leader used to look. Swapped appearances, except that he was a baby bear, not a wolf. But his horse was exactly as Ruan used to be, rich smoky black with a creamy middle and deep purple spots. Brown eyes instead of those bright blue.

But that was another story.
Perhaps she'd never truly know the bond of family.

She did remember a painted boy. One she met in a different forest. He'd smelled like water, oddly. She'd never learned why. Like many things in life, perhaps she never would. And she'd forgotten his name. Again.
tell me what your heart wants, such a simple thing
my heart is like paper; yours is like a flame