QOTY
"So she smiles prettily and steals away when she can. Feels the brutal pounding of others around her with a savagery that she has never comprehended—their emotions so vast, their hearts so wicked. It warps her more than she was already warped. It presses a thumbprint of cruelty into her darkness, shaping her into a thing of shadow, a thing of longing, a thing carved from the darkness between every breath." --Baptiste, written by Laura
Warden
the watcher
Age: 14
Gender: Stallion
Breed: hybrid
Height: 15.2 hh
Player: radar
Appearance
Color: bay overo (Ee/AA/nO)
Eyes: navy
Markings: bald face, white wings
Mane & Tail: black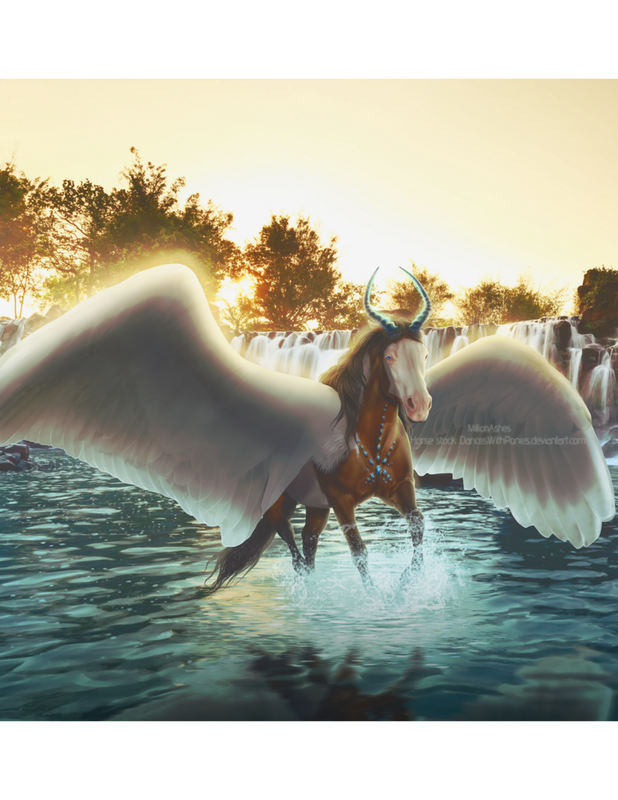 Personality
Warden is extremely loyal and protective. He carries an unseen burden of his second sight that he will often keep from others. He keeps to himself to lower the possibility of seeing the future, rarely associating with others. This has led him to be callous and aloof, despite the guilt he feels in being unable to stop the future from happening.
Lineage
| | |
| --- | --- |
| Parents: Warrick x Tangerine | Children: |
Traits
Companion:
Genetic Traits: precognition, wings, blue opal impala horns and hooves, starlight companion
Non-Genetic Traits:
Trait Genetic Code: tegteg [PRECOGNITION][WINGS][IMPALA HORNS][JEWEL TOUCHED][STARLIGHT COMPANION]
Defects:
History
Warden was born just months prior to his father, Warrick, falling ill with what seemed to be a deteriorating disease. It wasn't known then that this would become the plague that would shake Beqanna to it's core. Warden watched as his father slowly faded into an early deathbed, where healers and their generosity were the only thing keeping him alive.
Warden is a seer and had seen his father's sickness long before it had occured. He also had seen the war that would terrorize all of Beqanna as well, and many deaths and destroyed futures of strangers and those he loves. All came to pass.
As he grew older, Warden realized - by way of his mother and other seers - that his visions were only showing him deaths or terrible occurrences. He is now plagued with a third eye that will only see the demise of others.
Warden's Forum Info
Joined:
07-01-2018
Last Visit:
08-24-2021, 03:59 PM
Total Posts:
88 (0.07 posts per day | 0.1 percent of total posts)
(Find All Posts)
Total Threads:
12 (0.01 threads per day | 0.06 percent of total threads)
(Find All Threads)
Time Spent Online:
3 Days, 16 Hours, 52 Minutes
Warden's Threadlog · View Profile
Thread
Forum
Participants
Posts
Last Post
the sun still burns the shadows out -- flower

on 05-23-2021

Tephra
N/A
1
Last post by Warden

on 05-23-2021

[private]

i'll fall apart or stay intact; wishbone

on 01-16-2021

Tephra
Svedka, Wishbone
6
Last post by Wishbone

on 05-29-2021

show me the sun; warden

on 12-22-2020

Tephra
Wishbone
7
Last post by Wishbone

on 01-13-2021

Warden

on 12-11-2020

Tephra
Rhaegor
7
Last post by Rhaegor

on 01-07-2021

you've never seen my horizon.

on 11-18-2020

Tephra
yadigar
6
Last post by Warden

on 12-29-2020

[open]

time for a new start - all

on 11-15-2020

Tephra
Isilya, Solace, Warlight, Sabbath
5
Last post by Solace

on 11-25-2020

the sun still burns the shadows out; greta

on 11-14-2020

River
N/A
1
Last post by Warden

on 11-14-2020

i'd rather forget and not slow down; flower

on 11-14-2020

Tephra
The Monsters, flower
11
Last post by The Monsters

on 01-27-2021

resurrect the saint within the wretch; lilli

on 11-14-2020

Forest
lilliana
22
Last post by lilliana

on 01-15-2021

[open]

spring cleaning - ruler edition

on 09-27-2020

Tephra
Isilya, Asena, astra
7
Last post by Warden

on 10-22-2020

maybe redemption has stories to tell; lilliana

on 09-10-2020

Taiga
lilliana
6
Last post by lilliana

on 09-18-2020

It's just about to break | Warden

on 09-09-2020

River
Astra Daggenhardt
8
Last post by Warden

on 12-22-2020

maybe redemption has stories to tell; lilliana

on 08-01-2020

Tephra
lilliana
15
Last post by Warden

on 09-06-2020

[private]

wide awake in a world of lullabies

on 06-14-2020

Meadow
aletta
18
Last post by Warden

on 08-07-2020

maybe redemption has stories to tell; any

on 06-07-2020

Forest
Aislyn
11
Last post by Warden

on 08-22-2020

resurrect the saint within the wretch; flower

on 04-30-2020

Tephra
flower
16
Last post by flower

on 10-23-2020

[mature]

then sang to the sea for feelings deep blue // bru pony

on 04-25-2020

River
Rhaegor, Laia
9
Last post by Warden

on 06-06-2020

my watch begins; any

on 05-13-2019

Tephra
Jakub
4
Last post by Jakub

on 05-16-2019

[open]

dirty paws & glistening scales

on 05-12-2019

Tephra
Firen, Phesque
6
Last post by Phesque

on 06-02-2019

the sword in the darkness; jassal pony

on 09-29-2018

River
Samael
4
Last post by Samael

on 10-11-2018

i'll always love you the most; any

on 09-13-2018

Meadow
Glassheart
10
Last post by Warden

on 10-06-2018

the sound of branches breaking under your feet || any

on 08-29-2018

Forest
Kristin, Lichen
7
Last post by Warden

on 09-26-2018
Warden's Signature