Year:

218

Season:

Summer

SWP: here
QOTY
"She approaches the cave and there is nothing but that anticipation and her ever-present fire inside her. No fear, no flickering echoes of love. It's all been consumed for now. She is a wildfire contained only by the thin layer of her flesh." --Mazikeen, written by Squirt
Casimira
Age: adult
Gender: Mare
Breed: Anglo-Arabian
Height: 15.3hh
Player: Colby
Appearance
Color: white ()
Eyes: Ice blue
Markings: red Alliance V on upper right front leg
Mane & Tail:
Almost always looks like a normal horse. Will occasionally get scales across her body when she feels a strong emotion, be it fear or anger. Dragon form is just a large white dragon with blue eyes.
Dragon form: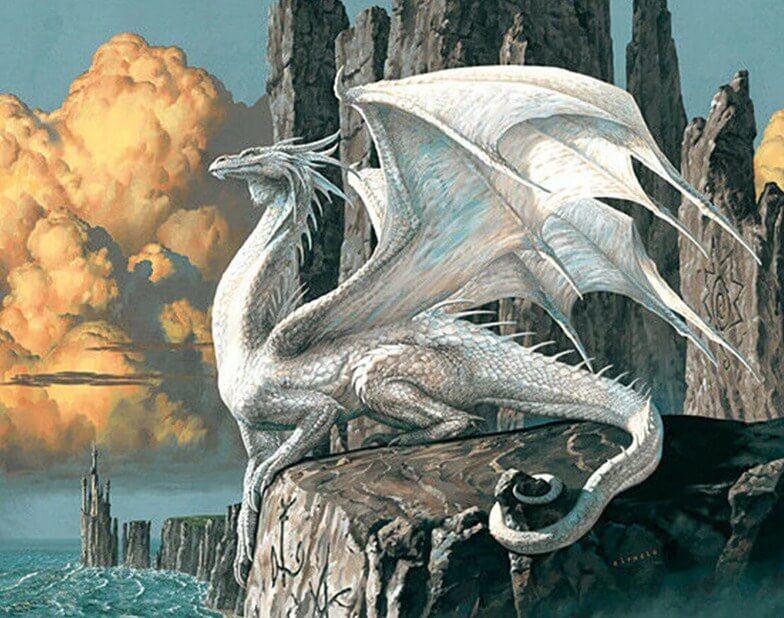 this is not art made for me, I just added this as a reference for during the alliance
Personality
In her horse form she is kind of reserved and usually not easily riled. She cannot control herself in her dragon form and becomes more feral, so she tries to avoid using it.
Lineage
Parents: Ashhal x Ryatah

Children:
Rhysa (x Badden)
Worship & Rare (x Savior)
Adhara & Elm (x Savior)
Rhaegal (x Savior)
Traits
Companion:
Genetic Traits: Serial immortality, dragon shifting
Non-Genetic Traits:
Trait Genetic Code: tegteg [SERIAL IMMORTALITY][DRAGON SHIFTING][wings][infrared vision]
Defects:
History
- born in Tephra with twin brother Cassian.
- saved her half sister Evenstar when their other half sister, Ripley, and her daughter Nostromo attacked her. This was one of the first times she used her dragon form to fight and she noticed she started to lose control.
- she was around 2-3 years old when the Tephra/Loess war took place. She fought Castile in her dragon-form, and when knocked to the ground she tried to attack Ophanim. Starsin shattered her apart and killed her.
- She was reborn from one of her scales, and disappears from Tephra.
- meets and falls in love with Badden and has a daughter, Rhysa.
- she remains in Nerine after visiting Heartfire, but does not interact with anyone.
- returns to Tephra winter year 209.
- joins Hyaline to be with Breach's kingdom of shifters sometime year 211 or whatever.
- meets Savior Sept 2020 (idk what BQ year that is)
- participates in Alliance October 2020
- moves to Tephra to rule with Savior October 2021
Casimira's Forum Info
Joined:
01-14-2019
Last Visit:
(Hidden)
Total Posts:
59 (0.06 posts per day | 0.07 percent of total posts)
(Find All Posts)
Total Threads:
9 (0.01 threads per day | 0.04 percent of total threads)
(Find All Threads)
Time Spent Online:
(Hidden)
Casimira's Threadlog · View Profile
Thread
Forum
Participants
Posts
Last Post

[private]

this is going to bring me to my knees, savior

on 11-25-2021

Tephra
N/A
1
Last post by Casimira

on 11-25-2021

[private]

my heart has started to separate, atrox

on 11-01-2021

Forest
atrox
4
Last post by atrox

on 12-03-2021

[private]

I just wanted to be found, ashhal

on 10-17-2021

Forest
Ashhal
5
Last post by Casimira

on 10-29-2021

when the land was godless and free, all tephrans

on 10-14-2021

Tephra
Isilya, savior, Gilda, Ahti
6
Last post by savior

on 10-24-2021

[private]

you couldn't hide it from me, casimira

on 10-14-2021

Tephra
savior
15
Last post by savior

on 11-14-2021

[private]

i'm not afraid of you running away, casimira

on 02-28-2021

Tephra
savior
3
Last post by savior

on 03-30-2021

[private]

moon's rising and my blood is growing cold

on 01-17-2021

Hyaline
Mazikeen
8
Last post by Casimira

on 03-21-2021

[private]

it's just my soul responding, savior

on 11-29-2020

Tephra
savior
11
Last post by Casimira

on 02-28-2021

ROUND ONE: Casimira v. Frenzy

on 10-02-2020

Plains
Leah, Affirmative, Officials, frenzy
8
Last post by Officials

on 10-20-2020

i found the shoreline, casimira

on 09-16-2020

Meadow
savior
7
Last post by savior

on 10-21-2020

[open]

could have followed my fears all the way down

on 09-07-2020

Meadow
Warlight
5
Last post by Casimira

on 10-08-2020

[private]

fell asleep inside a fantasy and woke up feeling lost, isilya

on 05-05-2020

Tephra
Isilya
2
Last post by Isilya

on 05-06-2020

[private]

the world out there has teeth; heartfire

on 11-14-2019

Nerine
Heartfire
3
Last post by Casimira

on 11-21-2019

Beauty is a beast // Casimira

on 09-30-2019

River
Santana
12
Last post by Casimira

on 11-17-2019

[private]

fell asleep inside a fantasy, Badden

on 09-23-2019

Meadow
Badden
15
Last post by Casimira

on 11-20-2019

[private]

now I'm terrified and restless but I just cannot escape, Tunnel

on 08-01-2019

Forest
Tunnel
3
Last post by Casimira

on 08-09-2019

But you don't fucking know me homie you don't want war.

on 05-15-2019

Tephra
Gale, Brennen, Aziz, vulgaris, Heartfire, leliana, Sinner, Castile, Nightlock, Wolfbane, sochi, Titus, Mary, Vadar, Dawn, Maleficar, Kensa, Starsin, litotes, Ophanim, Ruinam, Firen, Caelestra, Jakub, Cyprin
42
Last post by Brennen

on 05-20-2019

The Cannibal Glow (Colby)

on 04-10-2019

River
Church Bells
2
Last post by Casimira

on 04-10-2019

Casimira...

on 02-04-2019

Forest
Ryatah, Random Event, Cassian
8
Last post by Casimira

on 03-22-2019