QOTY
"So she smiles prettily and steals away when she can. Feels the brutal pounding of others around her with a savagery that she has never comprehended—their emotions so vast, their hearts so wicked. It warps her more than she was already warped. It presses a thumbprint of cruelty into her darkness, shaping her into a thing of shadow, a thing of longing, a thing carved from the darkness between every breath." --Baptiste, written by Laura
Aquaria
The pearl of Ischia
Age: 18
Gender: Mare
Breed: Azteca Hybrid
Height: 15.2hh
Player: Bruja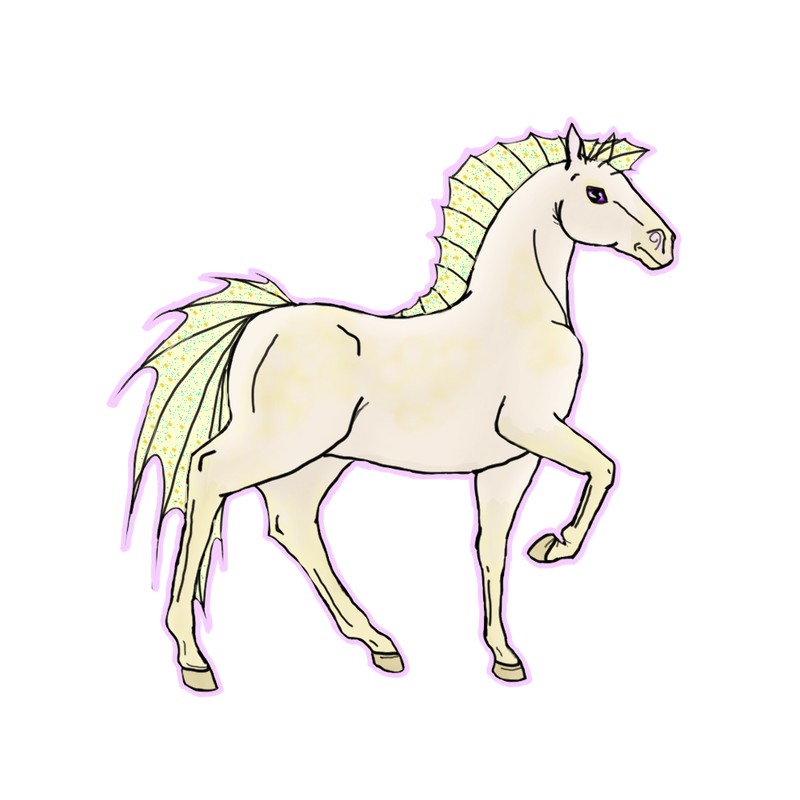 Appearance
Color: (Grey) Amber Champagne (Ee/Aa/nCh/Gg)
Eyes: Blue Violet
Markings: Inverted gold triangle on forehead
Mane & Tail: Pale gold fins flecked with darker gold and green
Horse Appearance: Golden champagne base which has faded into white with golden points and patches still scattered over her coat. Blue-violet eyes. Nereid Appearance: Hair is replaced by tiny scales, pearl white with gold and pink edges. Gills appear on her throat. Extra fins at her hocks. [img]https://i.postimg.cc/gjqp1BXc/Project-Capture-2.png[/img]
Personality
Positive: Outgoing, Adventurous, Dedicated, Forgiving, Generous Negative: Impatient, Commitment-shy, Stubborn, Inflexible, Mistrustful of authority At her best, Aquaria is the best friend you could ask for. She jumps into adventure head first and asks questions later, and let's the consequences fall where they will. She likes almost everyone she meets, and loves just a few with everything she has. She can be generous to the point of self sacrifice for the ones she cares about. She can forgive just about anything once gives earned her loyalty. At her worst, she is sarcastic and ornery, and will not hesitate to fight those who cross her or the ones she cares about. Her impulsivity can lead to situations that are difficult to talk her way out of, though she will try very hard to accomplish that. Betrayal is answered with swift vengeance.
Lineage
Parents: Hod x Nyxa

Children: Adopted
Halcyon (Pteron x Reia)
Genetic
Cormorant (x Pteron)
Marianas** (x Warbird)
Kaimana*** (x Warbird)
Torrent (x Pteron)
Traits
Companion:
Genetic Traits: Nereid Shifting, Fin Mane/Tail, Lays Eggs
Non-Genetic Traits:
Trait Genetic Code: tegteg [NEREID SHIFTING][LAYS EGGS][FIN MANE/TAIL][orca mimicry][fish friend]
Defects:
History
Born in Ischia to Hod and Nyxa, the youngest of their three children. Her older siblings Adria and Tyr had begun their own adventures by the time she came to be. When her parents left the shore they took their young daughter with them. She spent her childhood and young adulthood at sea. At approximately five years old, the nereid returned to the shores of her birth. Her sister Adria had come into power as the Dame of the island. She also met a young pegasus named Vita, her niece Sande, and her adopted niece, another nereid named Eva. She encountered the Taigan pegasus Pteron on the beach. Later that summer she met the sea dragon Terrin. They seemed to find each other strange. As requested by her sister, Aquaria ventured to Pangea on a diplomatic mission. There she met the then ruler Litotes and his youngest son, Draco. On her return to Ischia, a diplomatic envoy from Taiga arrived consistent of the Comtesse Lepis, her daughter Celina and the mare Lilliana. They were met by Aquaria and Eva. It was announced that her sister had been replaced as Dame by Larke, daughter of Vulgaris, a princess of Tephra. Eva took on the appointment of Larke's second in command. This short term arrangement was brought to an end when Ischia's inhabitants made their point of view known to Vulgaris, ultimately resulting in Larke's return to Tephra and Eva's appointment as the new Dame. She met the shapeshifter Aodhán one day on the beach and found him a bit odd, but relatively tasty. During a visit to the river she met the energetic Popinjay. On Ischia she had a brief encounter with the kelpie Tasi. After several visits from the pegasus Pteron and emotions growing in intensity, she traveled to Taiga. She was met by Lepis, learned of her connection to Pteron. Later that day Aquaria and Pteron met and their friendship was taken to another level. On the return to Ischia she stopped in the meadow where she met the returned Entity Straia, as well as reuniting with Lilliana, Popinjay and the newly met Aten. Following this meeting she returned to the river, only to be discovered by the panther Atrox and his spirit servants.
Aquaria's Forum Info
Joined:
08-05-2019
Last Visit:
06-25-2021, 05:34 PM
Total Posts:
223 (0.28 posts per day | 0.26 percent of total posts)
(Find All Posts)
Total Threads:
31 (0.04 threads per day | 0.16 percent of total threads)
(Find All Threads)
Time Spent Online:
5 Days, 11 Hours, 37 Minutes
Aquaria's Threadlog · View Profile
Thread
Forum
Participants
Posts
Last Post

[open]

The blue in an ocean of grey // Any

on 06-25-2021

Ischia
Thresh
2
Last post by Thresh

on 07-04-2021

I am a mermaid that you dreamt // Moira

on 05-25-2021

Ischia
Moira
4
Last post by Moira

on 06-28-2021

[open]

some light for a change

on 05-18-2021

Ischia
Beyza, neuna, Decima
9
Last post by Beyza

on 06-03-2021

[open]

Just a broken girl (any, joining/rejoining)

on 04-20-2021

Ischia
Carwyn
2
Last post by Aquaria

on 04-23-2021

A color I couldn't see // Tiercel, Any

on 04-20-2021

Icicle Isle
Tiercel
6
Last post by Tiercel

on 07-01-2021

The birds of morning don't sing anymore [Aquaria]

on 03-14-2021

Tephra
The Monsters, Dace
9
Last post by Aquaria

on 05-18-2021

Another activity check, but tropical scented!

on 01-14-2021

Ischia
kahzie, Mirage, SecondChances, Vanilla Custard, Tangi
6
Last post by Mirage

on 02-15-2021

i've never fallen from quite this high | aquaria

on 01-09-2021

Ischia
Pteron
8
Last post by Aquaria

on 01-17-2021

[open]

I am a mermaid that you dreamt // Any

on 01-08-2021

Tephra
Wishbone
7
Last post by Aquaria

on 03-31-2021

i will not speak of your sin; aquaria

on 01-04-2021

Ischia
Kuna, Tiercel
15
Last post by Tiercel

on 03-31-2021

blood in the water; any

on 01-03-2021

Ischia
Titanya
6
Last post by Aquaria

on 01-25-2021

[open]

I am a mermaid that you dreamt // Any

on 11-26-2020

Meadow
Luath
3
Last post by Aquaria

on 12-08-2020

[private]

a wilderness of water

on 11-07-2020

Ischia
Oceane
10
Last post by Aquaria

on 01-24-2021

Waves of change {Aquaria}

on 10-10-2020

Ischia
Genasi
2
Last post by Aquaria

on 10-13-2020

i've never fallen from quite this high; Aquaria

on 10-06-2020

Ischia
Pteron
8
Last post by Aquaria

on 11-19-2020

ROUND ONE: Mazikeen v. Aquaria

on 10-02-2020

Plains
Leah, Officials, Mazikeen
7
Last post by Officials

on 10-20-2020

sunshine, won't you be my mother? aquaria

on 09-19-2020

Ischia
Svedka
5
Last post by Svedka

on 10-13-2020

I am a mermaid that you dreamt // Aodhán

on 09-04-2020

Ischia
Bruja, Aodhan
6
Last post by Aodhan

on 10-07-2020

The Alliance: 2020 (sign ups)

on 09-01-2020

Plains
Isilya, Officials, Ashhal, Sabra, Leilan, Neverwhere, ghaul, gospel, elio, kensley, Oceane, Gale, breach
14
Last post by Oceane

on 09-28-2020

fifteen flares inside those ocean eyes; aquaria

on 08-23-2020

Ischia
Pteron
11
Last post by Pteron

on 10-06-2020

[private]

I am a mermaid that you dreamt // Brennen

on 07-26-2020

Ischia
N/A
1
Last post by Aquaria

on 07-26-2020

[private]

won't you help me recover?

on 06-26-2020

Ischia
Pteron, aegean, Halcyon
6
Last post by Aquaria

on 07-14-2020

blood in the water; Aquaria

on 06-16-2020

Ischia
Titanya
4
Last post by Aquaria

on 07-27-2020

[open]

of stones and glass houses [Aquaria/any]

on 05-18-2020

Ischia
Warbird
6
Last post by Aquaria

on 06-07-2020

I am a mermaid that you dreamt // Beachmasters

on 05-18-2020

Ischia
Brennen, Ivar, Aodhan
13
Last post by Brennen

on 06-24-2020

I am a mermaid that you dreamt // Birthing

on 05-01-2020

Ischia
Kaimana, Marianas
3
Last post by Marianas

on 05-03-2020

I am a mermaid that you dreamt // ISLANDERS

on 05-01-2020

Ischia
kahzie, wrena, Warlight, Aodhan, Velkan
11
Last post by Warlight

on 05-14-2020

[private]

your waves are pulling me under; aquaria

on 04-24-2020

Ischia
Eva
2
Last post by Aquaria

on 04-25-2020

[private]

i've moved further than i thought i could; Aquaria

on 04-24-2020

Ischia
Ivar
6
Last post by Aquaria

on 04-30-2020

[mature]

bet you never could imagine - any

on 04-22-2020

Ischia
wrena
4
Last post by Aquaria

on 05-11-2020

[private]

She sells seashells by the sea shore // Warbird

on 04-22-2020

River
Warbird
6
Last post by Warbird

on 04-24-2020

got a wildcard up my sleeve; aquaria

on 04-08-2020

Ischia
lilliana
9
Last post by lilliana

on 05-02-2020

Paint the sky blue; Eva, Aquaria

on 03-27-2020

Ischia
Eva, Ruinam
6
Last post by Aquaria

on 04-21-2020

[private]

growing black irises in the sunshine

on 03-24-2020

Ischia
Halcyon
9
Last post by Halcyon

on 04-30-2020

She sells seashells by the sea shore // Any

on 03-17-2020

Ischia
Velkan
5
Last post by Aquaria

on 04-20-2020

She sells seashells by the sea shore // Bronsonn

on 02-20-2020

Loess
N/A
1
Last post by Aquaria

on 02-20-2020

She sells seashells by the sea shore // Oceane, Any

on 01-29-2020

Loess
Halcyon, Oceane, Cormorant
6
Last post by Oceane

on 02-04-2020

She sells seashells by the sea shore // Family

on 01-25-2020

Ischia
Halcyon, Cormorant
8
Last post by Halcyon

on 02-08-2020

She sells seashells by the sea shore // Vita

on 01-22-2020

Ischia
Vita
6
Last post by Vita

on 03-06-2020

[private]

your waves are pulling me under; aquaria

on 01-18-2020

Ischia
Eva
9
Last post by Eva

on 02-23-2020

[private]

She sells seashells by the sea shore // Oceane

on 01-08-2020

River
Bruja, Oceane
10
Last post by Oceane

on 01-17-2020

[private]

i've never fallen from quite this high; Aquaria

on 12-31-2019

Ischia
Pteron, Halcyon
17
Last post by Aquaria

on 01-23-2020

[private]

in which he arrives on Ischia

on 12-12-2019

Ischia
Halcyon
8
Last post by Aquaria

on 12-20-2019

She sells seashells by the sea shore // PARTY

on 12-04-2019

Ischia
bean
4
Last post by bean

on 12-18-2019

She sells seashells by the sea shore // Any

on 11-24-2019

Ischia
N/A
1
Last post by Aquaria

on 11-24-2019

[mature]

i've never fallen from quite this high; Aquaria

on 11-19-2019

Ischia
Pteron
16
Last post by Aquaria

on 11-23-2019

[open]

From the ashes a fire shall be woken; Pteron, any

on 11-16-2019

Ischia
Adria, Pteron, Aodhan
6
Last post by Pteron

on 11-23-2019

[open]

smiles and sunbeams

on 11-16-2019

Ischia
Isilya, Adria, Eva
8
Last post by Isilya

on 12-22-2019

She sells seashells by the sea shore // Laura pony

on 11-12-2019

River
atrox
10
Last post by atrox

on 12-14-2019

wishful thinking | any

on 11-08-2019

Ischia
Krone
2
Last post by Aquaria

on 11-10-2019