QOTY
"(souls are not meant to live more than once — death was not meant to be temporary, and she is so sure that every time her heart starts to beat again that irreversible damage is further inflicted)" -- Anonya, written by Colby
vulgaris
Lord of House Veridea
Age: supes old
Gender: Stallion
Breed: Friesian Hybrid
Height: 16.2hh
Player: Jassal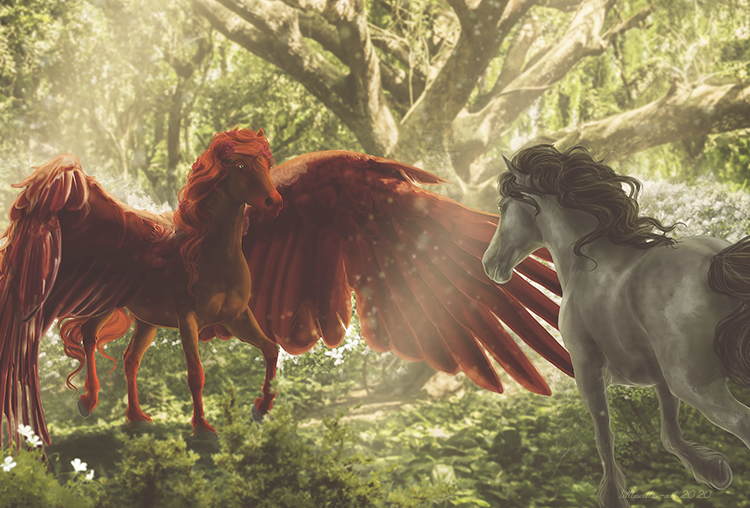 Appearance
Color: Dappled Gray (Ee/aa/Gg)
Eyes: Sage green
Markings: None
Mane & Tail: Black
Personality
Short-tempered, fickle, self-indulgent.

On his good days, he is kind and takes great care to serve those he loves.
On his bad days, he is quick to show his ferocity and destroy those who would stand against him.
There are many more bad days than good.
Lineage
Parents: Larva x Dillan

Children: Cellar (x Darking)
Marceline (x Margaery)
Tryndamere (x Nazri)
Toad & Turtle (x Clytemnestra)
Arise & Grice (x Zelena)
Kiev (x Ailana)
Reeva (x Faolin)
Adna, Sabbath, Malca, Linnea, Larke, Chronos, Saint, Drache, Meraki, Linnet (x Leliana)
Despair & Skaide (x Shiya)
Traits
Genetic Traits: ---
Non-Genetic Traits: ---
Trait Genetic Code: tegteg [equus viperous][self healing][water immunity][wings][horn]
Defects: ---
History
Vulgaris was raised by his father while his elder sister Shiya was raised by their mother. Larva tried to be a good example and raise his son to be decent, but once the curse passed from Larva to Vulgaris things sort of fell apart. His father spiraled back into misery and couldn't stand to see his son because he felt that it was all his fault. Vul coped with his new appearance by destroying those around him, including turning his daughter Cellar into a slave.

When he reunited with Shiya, he believed her to be his kindred spirit and soul mate because they were equally hideous. He was nearly driven mad with these feelings and fled Beqanna for many years.

Shortly after returning, he fell in love with Leliana near the River and sired two daughters with her. He also joined Loess and accepted the rank of Paladin, serving as the protector for his home. For his participation in the raid on Sylva, he was promoted to Champion and heir. He considers Wolfbane a good friend and remains fiercely loyal to his lord.

Shortly after becoming champion, however, Shiya sought him out to comfort her after a traumatic quest. She convinced him that no one could ever love a monster like him. Vulgaris realized that she would hunt Leliana as he had tried to hunt Dovev, so he exiled his lover from Loess for a short time before begging her to come home again. After learning Shiya threatened Adna and Leliana's life, he swore he would hunt her down and kill her if she ever returned to Loess.

As Leliana tried to keep healing those affected by the plague, Vulgaris realized she was exhausting herself. He climbed the mountain and asked for a way to help her heal people so she wouldn't shoulder the burden alone. Carnage, however, thought Vulgaris asked for too much and he decided to wipe his memories of everyone instead. Once he returned home, he forced himself on both Leliana and Shiya before stumbling upon Starsin, who convinced him that she was close friend. She led him back to Loess, where he was abruptly named king, and told him his people needed healers. He commanded all members of Loess to capture healers and kept them in a dungeon constructed by Aziz.

Realizing his madness, however, Vulgaris stepped down and left Castile in his place. He wandered his home and kept to himself until Leliana successfully repaired his memories and his scarring across his face. After the birth of their twins, however, she developed magic and left to find herself after this rebirth. Now Vulgaris has sided against her and vowed to protect Loess in exchange for forgiveness for his crimes.
vulgaris's Forum Info
Joined:
08-05-2015
Last Visit:
08-11-2020, 09:20 PM
Total Posts:
192 (0.1 posts per day | 0.25 percent of total posts)
(Find All Posts)
Total Threads:
34 (0.02 threads per day | 0.19 percent of total threads)
(Find All Threads)
Time Spent Online:
5 Days, 8 Hours
vulgaris's Threadlog · View Profile
Thread
Forum
Participants
Posts
Last Post
you shook me, adna

on 06-17-2020

Taiga
adna
4
Last post by adna

on 07-20-2020

breakable, unbreakable; ALL

on 10-22-2019

Tephra
Rouhi, Ryatah, Jakub, bea, Tamlin, Anodyne, Isilya, Dacre
9
Last post by Dacre

on 10-26-2019

I beg for forgivness; Any!

on 10-19-2019

Ischia
Ruinam, Aquaria, Maleficar
8
Last post by vulgaris

on 10-22-2019

our hearts know deeper seasons than our memories; ALL

on 10-16-2019

Ischia
Ivar, Adria, Yidhra, Eva, Jakub, larke, Aquaria
12
Last post by Yidhra

on 10-23-2019

[open]

Bloodfeather || Vulgaris, Leliana, Any ||

on 10-10-2019

Tephra
leliana, Wolfbane, Jakub
12
Last post by vulgaris

on 10-23-2019

[private]

come into the water

on 10-09-2019

Loess
Heartfire, Castile, litotes, ghaul
10
Last post by Castile

on 10-21-2019

[open]

one. two. three.

on 09-19-2019

River
Malca
3
Last post by Malca

on 09-28-2019

[private]

we are not the end; larke

on 09-18-2019

Ischia
larke
6
Last post by larke

on 09-18-2019

[PQ]

ding dong

on 09-11-2019

Mountain
Wysteria Fairy
2
Last post by Wysteria Fairy

on 09-16-2019

Long May She Reign ||Vulgaris||

on 09-09-2019

Tephra
leliana, Mary
6
Last post by Mary

on 09-19-2019

[open]

to things new and wonderful

on 09-08-2019

Tephra
Isilya
5
Last post by Isilya

on 10-18-2019

from the pinnacle to the pit; leliana

on 08-29-2019

Tephra
leliana
4
Last post by leliana

on 09-09-2019

i was a heavy heart to carry; ruinam

on 08-29-2019

Island Resort
Ruinam
4
Last post by Ruinam

on 09-20-2019

[private]

let's shake this poet out of the beast

on 08-26-2019

Tephra
litotes
4
Last post by vulgaris

on 09-20-2019

Vulgaris, Leliana, anyone;

on 08-22-2019

Tephra
leliana, Skaide
4
Last post by Skaide

on 08-30-2019

pray for the thunder, briella

on 08-06-2019

Forest
Briella
4
Last post by Briella

on 10-22-2019

[complete]

find me in the ashes, fairies.

on 07-26-2019

Mountain
Beqanna Fairy
2
Last post by Beqanna Fairy

on 07-29-2019

[private]

the meetings of the waters just below the ribs; birthing

on 07-26-2019

Tephra
leliana, saint, Drache
5
Last post by leliana

on 08-10-2019

your skin tastes of gorse flowers; vulgaris

on 06-12-2019

River
leliana
6
Last post by vulgaris

on 08-06-2019

[complete]

once more into the fray, fairies.

on 06-05-2019

Mountain
Wysteria Fairy
2
Last post by Wysteria Fairy

on 06-07-2019

[open]

[Party] anyone;

on 05-29-2019

Hyaline
leliana, NPC, Jakub
14
Last post by vulgaris

on 06-11-2019

haunted by the ghost of you; vulgaris

on 05-21-2019

Afterlife
leliana, linnea
9
Last post by vulgaris

on 06-05-2019

But you don't fucking know me homie you don't want war.

on 05-15-2019

Tephra
Gale, Brennen, Aziz, Heartfire, leliana, Sinner, Castile, Nightlock, Wolfbane, sochi, Titus, Mary, Vadar, Dawn, Maleficar, Kensa, Starsin, litotes, Ophanim, Ruinam, Firen, Casimira, Caelestra, Jakub, Cyprin
42
Last post by Brennen

on 05-20-2019

follow my voice, I am right here; vulgaris

on 05-12-2019

Loess
leliana
5
Last post by leliana

on 05-14-2019

we're setting fire to our insides for fun; birthing

on 05-10-2019

Loess
adna, rupture
3
Last post by rupture

on 05-17-2019

You could be happy; I hope you are, Leliana

on 05-07-2019

Tephra
leliana
5
Last post by vulgaris

on 05-08-2019

the best is over and the worst is yet to come ; vul

on 05-07-2019

Loess
Cress
3
Last post by Cress

on 05-15-2019

Bro. I love u Bro (Vulgaris)

on 05-06-2019

Loess
Wolfbane, litotes
4
Last post by litotes

on 05-14-2019

as if death itself was undone; birthing, vulgaris

on 05-02-2019

Loess
leliana
7
Last post by leliana

on 05-03-2019

Vulgaris;

on 04-23-2019

Loess
Skaide
2
Last post by vulgaris

on 04-25-2019

how it can hold me up and kill me in the end; vulgaris

on 03-31-2019

Loess
leliana, linnea
9
Last post by vulgaris

on 05-02-2019

chew it up and swallow it, any

on 03-28-2019

Loess
Castile, Wolfbane, Starsin
10
Last post by vulgaris

on 04-22-2019

Knock Knock {Vulgaris, Sinner}

on 01-27-2019

Loess
Sinner, Mary, Starsin
4
Last post by Sinner

on 01-28-2019

I know that love is all about the wind; any

on 01-24-2019

Loess
leliana
3
Last post by leliana

on 01-29-2019

[open]

I'm unbearable

on 01-23-2019

Loess
Caelestra
5
Last post by Caelestra

on 01-29-2019

everyday i'm hustlin'; any

on 01-22-2019

Loess
Katarina
3
Last post by Katarina

on 01-31-2019

here lies the love of my life, leliana

on 01-20-2019

Island Resort
leliana
2
Last post by leliana

on 01-20-2019

today, my name is pain; ALL

on 01-18-2019

Loess
Heda, Faulkor, Starsin, Brink
4
Last post by Brink

on 01-21-2019

[mature]

chew it up and swallow it.

on 12-31-2018

Meadow
adna
6
Last post by adna

on 01-12-2019

[mature]

right against the wall, leliana.

on 12-31-2018

Forest
leliana
3
Last post by vulgaris

on 01-01-2019

I tried to make a home out of you.

on 12-10-2018

Mountain
Carnage
2
Last post by Carnage

on 12-24-2018

[open]

One foot toward the gallows || Dovev, Vulgaris ||

on 11-29-2018

Brilliant Pampas
Heartfire, Dovev, Wolfbane, Briella, Nyctelios, Brazen, Dagen
15
Last post by Heartfire

on 12-31-2018

to see where it is that you're taking my heart; vulgaris

on 11-29-2018

Brilliant Pampas
leliana, adna
8
Last post by leliana

on 12-11-2018

but i can't let go, dovev.

on 11-08-2018

River
Dovev
3
Last post by vulgaris

on 11-21-2018

vulgaris

on 11-06-2018

Forest
warlow, The Plague
3
Last post by vulgaris

on 11-15-2018

i don't want no romancing; shiya

on 11-06-2018

Brilliant Pampas
Shiya
3
Last post by vulgaris

on 11-15-2018

the sound of silence; MAGNUS/ADNA

on 11-05-2018

Tephra
Chaol, magnus, adna
11
Last post by vulgaris

on 11-21-2018

let the dream pull you below; Vulgaris

on 11-01-2018

River
Yidhra, The Plague
9
Last post by Yidhra

on 12-05-2018

that's all there is; a claim

on 11-01-2018

Brilliant Pampas
Wolfbane, Lepis, Noah
6
Last post by vulgaris

on 11-05-2018

and you say that i hurt you in a voice like a prayer, leliana

on 10-31-2018

River
leliana, The Plague
11
Last post by leliana

on 11-05-2018
vulgaris's Signature