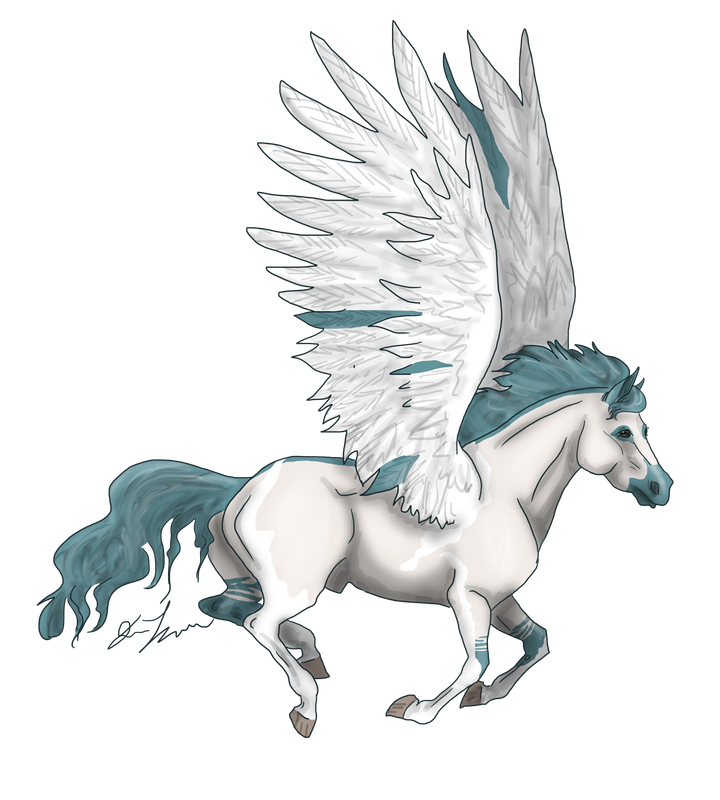 Aquaria fits against him snugly and Pteron holds her all the closer for it, unwilling to shift his wing even for the warmth that friction might bring.
She's only grateful to be warm, Pteron knows, and yet her moan of relief followed by the girlish giggle is enough for him to bury his blue face in the silky strands of her mane  just beneath her ears. The edges of her sea stars tickle along the edge of his jaw, but he is reluctant to pull away. Her skin is cold against his, though as Aquaria tells him that 'this just about makes up for it' he does his best to warm it with slow exhales. They've a purpose for him as well, slow deep breaths to remind himself that she is a friend. A friend who is tucked quite close, one who is suddenly asking him about his mother, and her intentions regarding his love life.
"My mother needs to mind her own business,"
he tells Aquaria, though his olive eyes dart toward the trees through which she had left as though to be sure she is really gone. Lepis has made no secret of what she wants for her children, but she has been equally as open that their lives are their own to choose. There are no arranged marriages waiting for them, and no thrones either. They must work for what they want, though he suspects that the Comtesse is not above guiding him with invisible hands. He is overly suspicious, she would say, but if that awareness kept him in line: all the better.
"She wants grandchildren, I think,"
he adds, tucking a white strand of hair behind Aquaria's ear.
"But I'm not ready to settle down, and she knows that too."
That the two are synonymous for Pteron are obvious in the way he says them. When he marries there will be children, and none before that. Still, he thinks as Aquaria's curious lips brush against his sensitive neck, there is no harm in practicing.
What happened here, she asks, and his chest tightens uncomfortably. Practice, he thinks wryly to himself; but not the enjoyable kind. The saltwater has cleansed him of physical reminders, but there is no easy eraser for his mind. His hesitation in answering is softened by the way she reaches forward, presses her lips against the tender skin of his throat. His breath catches as he bends his neck to meet his friend's eye. As gentle as she had been, he returns the gesture, though he lingers a breath longer and pulls back more slowly.
His olive eyes meet for her violet ones, and there is a question in them that he can't quite find the words to ask.
"It was an accident,"
he tells her instead, his voice oddly breathless. Truthful though, at least he hopes. Some part of him knows that Reia will crook her finger again now that she knows how easily he'll jump, yet it is easy to forget that as he reaches forward a second, less hesitant time, to press his blue muzzle along the line of Aquaria's soft jaw.
Aquaria
-- pteron --