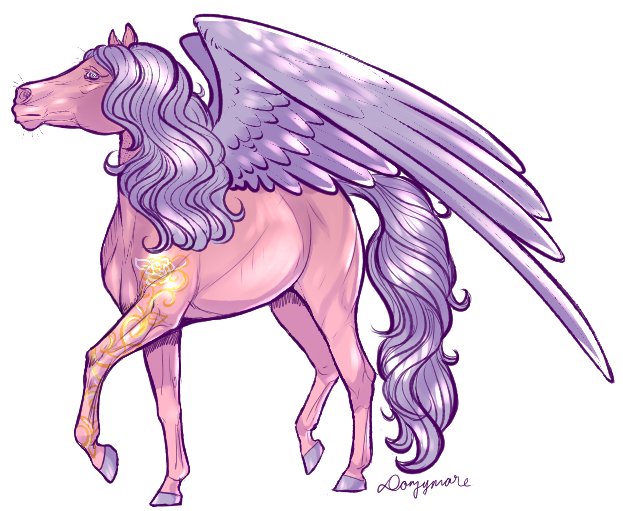 "What's up, flamingo?"

Jude whirls around to peer into the glowing red eyes of Vadar. All of the air leaves her body in a quiet, slow gasp. The last time she was teleported suddenly, she was attacked by a Vadar look alike; but now that she is staring at the bloodthirsty eyes of what is certainly Vadar, she wonders if that was truly a lookalike. She forgets the size difference of her last attacker, how their voices are totally different, when she is staring down the face of murder.

"Ready to die?"

A sputtered response begins to leave her mouth, but it is cut off by the noise of a dome slamming down and Vadar's war cry. She hesitates for a moment—a moment too long—and the breath is knocked out of her as the pair's chests collide. "Fuck!" Jude screams as all of the anger and fear she has repressed violently explodes. She does not understand why her once-lover only ever shows up to hurt her, but she is fucking sick of everything she loves being decimated without her control.

Jude digs her hooves into the dust and grass, wrapping blunt teeth around a chunk of Vadar's mane and pulling away with all of her might. He rears his head back and cries out; Jude feels a rush of heady pleasure when she realizes a large amount of bloodied hair is in her mouth. She spits the hair from her mouth and smiles, baring her teeth in a taunting grin at Vadar. Fury rises in his eyes from where he has pranced backward.

"Ready to die?" Jude parrots, clearly mocking Vadar's attempt to startle her.

Vadar launches into another attack and this time Jude is completely prepared. He rushes at her and instead of shying, she rushes back, eyes steady to watch what his next move will be. When Vadar slides to a stop and suddenly rears back onto his hind legs, Jude's confidence nearly leaves her. She attempts to whip her wings out to lift above him, only to remember she no longer carries them, and it is too late to stop her approach. The only thing she knows to do is buckle down even harder on what may be a mistake—how terribly on brand for her, even when facing potential death—and bend her head to aim her antlers at Vadar's stomach.

Jude nearly blacks out from the pain she feels as her attacker falls atop her. His hooves first meet her neck and then her back, and as she falls straight to the ground he falls to the side. When Jude's knees connect with the earth, Vadar's weight drags her head to the ground. Blood pools from where her antlers are still deep in his stomach. She can hear Vadar's labored breathing, each rise and fall of his chest lifting and then dropping her head. For a few seconds, they sit in stunned silence; but Vadar breaks that peace with weak attempts at rising—Jude can feel his thirst for blood even as the deep tears in his stomach render him nearly useless.

It is difficult to pull her antlers from Vadar's flesh, but with a few pumps of her legs and a shake of her head, she is able to break free. Jude's head is covered in a mixture of her and her attacker's blood. Crimson droplets paint the dry earth as she rises. More blood falls from her neck and back—she looks like she should be dead, blood and dirt covering her in a warrior's dress. Pieces of flesh and organs dangle from her antlers. Jude merely blinks in shock, unaware of how she looks like a monster (though now, as she sits in this new power of violence, it is not certain that she would even care).

Beneath her, Vadar struggles and sneers. Pity and pain want to sneak into her chest—and for a moment they do, squeezing her lungs tight—but adrenaline and anger rush so loudly in her ears that the suffering of trauma dissipates. She steps close to his head, peering down at him with contempt. He lifts his head and wheezes, still attempting to attack her with a snap of his teeth at her legs. Jude scoffs and kicks him hard under the chin. Vadar groans and stares viciously up at her with one glowing, unforgiving eye.

"Fuck you," Jude spits, sneering down at him. "Fuck you and your anger. Fuck you and your hatred. Fuck you, Vadar. Fuck you!" Her voice rises into a scream as she speaks. Even as he is defeated, even as this betrayal is clear on her face, the need to destroy her is clear in the glare of his eye. The black, ugly, bloody need to snuff out the light of his eyes grows and grows in Jude's chest. It spirals into a black hole, sucking away the physical pain, giving her tunnel vision.

"Fuck you," Jude whispers, then half-rears and crushes his throat with her landing.

The light leaves Vadar's eyes. Jude watches, unfeeling, indifferent. She feels no regret, no emotional pain, no disgust; instead, she feels powerful, born anew, enlightened by the strength she feels when she kills. Murder is a new god and she will sleep forever in its temple.