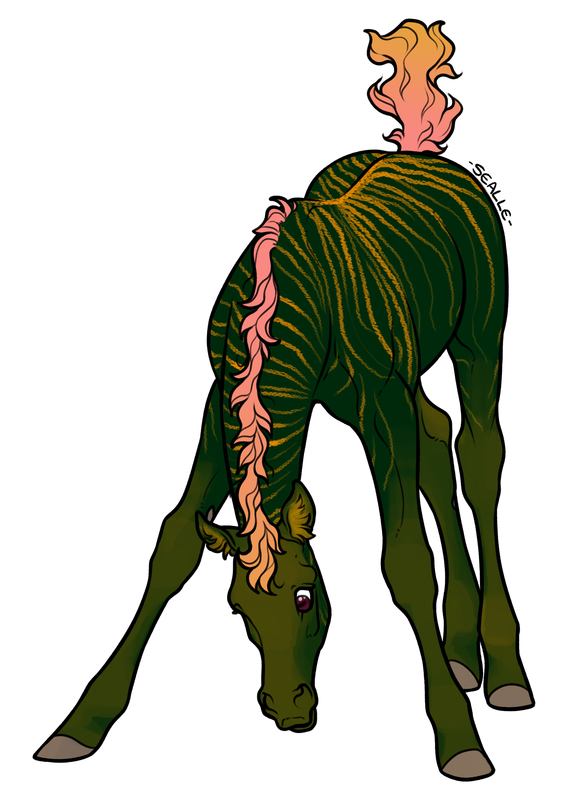 Has a whole day really passed? His eyes flutter open and the colt peers suspiciously into the autumnal wood, small ears twisting this way and that. Nothing but silence finds him.

Well.
Not silence.

The leaves above are rustling in a cold wind, despite the warmth their color offers the light filtering through. The hardy birds that over-winter are fluttering through the undergrowth, and in the near distance, a crow caws harshly. Small creatures crawl through the carpet of leaves, searching for acorns, nuts, and dried winter berries that have dropped to the ground. The sylvan wood is alive, even in the coldest months. So, no, it's not silence that meets his ears.

Yet, there is a distinct lack of the sort of thing he might expect to hear, heavy hooves drifting slowly across the ground, the soft whuff of his mother's breath, or the throaty bubbling of her nickering to call him back to her side when he's strayed too far. His tail flaps worriedly like a lamb's. 

It is not silence, but an emptiness that he feels.

The colt is tucked away in a bed of leaves and  ferns that curl softly around his edges as if trying to reclaim the green that they used to be. He is too young to know that they were never green - not in this wood - and he is too young to know they should have been, but that some latent magic gives this fall forest its constant fire. He is not too young to know that this isn't the first time it has happened, that he has lost time and awoken alone, confused, but those other time he had found her again, nearby and searching. Her voice had come to him suddenly, like waking out of a dream, and he had answered her groggily, but today her calls are not in the air. Eyes bright as mulberries search the landscape, like him, his mother is wildly colored and would not easily blend in anyway, not even among the reds and blaze oranges of Sylva. Florian nickers a question into the air, his voice high-pitched and small, then climbs clumsily to his feet.

"Hello?"


Image colored by Ratty
Malkin
Feel free to respond whenever since this is already a year out of context lmao