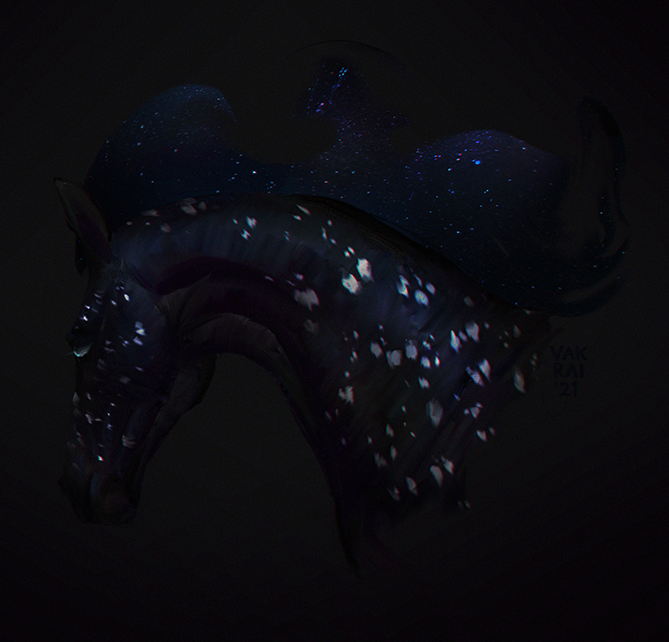 A... lure? The starred girl pauses, letting the thought tumble through her mind like a fishscale lost in the eddies of a wild river, sparkling bright and too small to ever settle. Shipka is guileless and sincere and unused to the deceit that her companion suggests. A lie, he means, and she finds nothing in his voice or his expression to say that she shouldn't believe him, but she doesn't want to. Her heart thuds in her chest like a hammer, like a fist, and if she had time, she might wonder if he can see the outline of it pressing against her skin, but her attention is taken up by something - someone - staggering towards them.

What sort of creature could cause wounds like that?

The creature limps closer. Its progress is slow, hampered by massive injuries, but its keening cries fill her ears, snag at her, drawing her away from the gold stallion's side, and this time she doesn't pause but bounds forward too quickly to hear the irony in his voice. She's too quick, this time, to catch his laugh, to hear his words, because the thing shrieks and Shipka is running to it, and when it  lurches forward, the girl is there, catching up the full weight of it on slim shoulders.

And gods, but it's heavy.

So heavy.

The creature's entire weight is falling across her back and Shipka falters, a foreleg curling unbidden.

"Please," her voice is a gasp under the strain, "you have to stand, I- I can't hold you up, I-"

Her bright eyes fall on the face of the creature, and finds no face. The shape is horse-like, but there are no eyes, only melting flesh and flashes of bone underneath. Her stomach turns and her words die away. She's no healer, and if she were, she thinks the destruction wrought on this strange body would burn her up like dry switchgrass in a wildfire. The jagged, broken edge of the beast's exposed sternum digs at her side and she dares not look to see what is dripping onto her back, or whether the burning sensation there is real. Surely not, she thinks, it's only her imagination, like the ice-cold fear that suddenly flares up her spine when she realizes it's not alive.

The thing swings that vaguely equine head around as if to regard her with its eyeless face and Shipka shudders. There is no mouth but harsh laughter jangles noisily in her head like broken glass, flooding her vision with red and black and white, and when she tries to pull away, it moves with her, its sloughing flesh adhering to her skin, its bones shifting, cracking, as if to pull her inside the tarry cavern of its rotten innards.

"No."

The stars here slip away from her when she reaches for them, defiant, cold, they aren't her stars and care nothing for her, care nothing for fools that run willingly into the embrace of the Eaters. There's only her and... and... Her gaze finds her companion's and in an odd moment of calm, it occurs to her that she is going to die on an adventure she agreed to go on with a total stranger. Was this the plan all along?

She has always been so, so naive.

Image by vakrai
@[Ten]
@[The Monsters] maybe something happens to her flowers?