never thirsty, ever drinking
It had only been a moment of comfort in a world turned upside-down, reaching out to one another in darkness, tamping down the fear that threatened to rise up from their hearts and burst out from their open throats like seawater from drowning lungs. And, Dace thinks, it had worked, for a time, but now he finds his worries multiplied tenfold at his hooves, sleeping peacefully when he has not found decent rest for days.

I'll never sleep again, he resolves, letting his weary gaze fall from the fairy lights drifting through the jungle to the child's fragile ribs, letting his bright head fall from its sentinel position so that his lips can brush the downy fur of his daughter's shoulder. She smells like milk and spice, like cinnamon bark, dusty remnants of the trees they passed through earlier peppering her bright coat. Quietly, mournfully, Dace wonders if he will ever see that coat painted over with sunlight, or will he be forced to imagine what it could have been?

A sound makes him lift his head. A voice. It's almost familiar, but he trusts nothing, now; the creatures that brought the darkness wear so many guises. Sometimes they are simply shadows and teeth and claws, sometimes they wear the faces of his friends and his family. Sometimes they wear faces of horses he does not know at all and these are always the least suspicious because a stranger can look like anything. He takes a protective step over the filly, ears laced back and the skin of his haunches quivering, ready. The tension across his face pinches his nostrils until his breath comes in a growl and draws his lips up into a snarl, baring teeth that gleam with the light of the magician's magic, glowing birds.

Come on, then, Fiend.

But nothing comes. Only the softly growing sounds of conversation all around him. He hears his own name, and he hears them say his daughter's name, but everything else is strange and indistinct; murmuring that becomes an ocean's crashing and still no words that he can make out. A crowd of half-remembered, half-dreamt voices, chattering all around him, ringing in his ears (and only in his ears for Gilda still sleeps soundly beneath him, unaware) until he thinks he is going to go mad.

He is going mad. He's spinning awkwardly as the volume shifts - left, right, behind, above, deafening. How can the girl sleep through it all? How can she not hear them? The empty clearing is full of bellowing voices.

"Shut up! Shut up!"

He roars into the dead silence of midnight, sweat dampening his skin and legs shaking, exhausted. Gilda lifts her head from where it lay tucked against her body, blinking those liquid doe eyes sleepily, confused.

"Papa?"

She does not understand why he is screaming.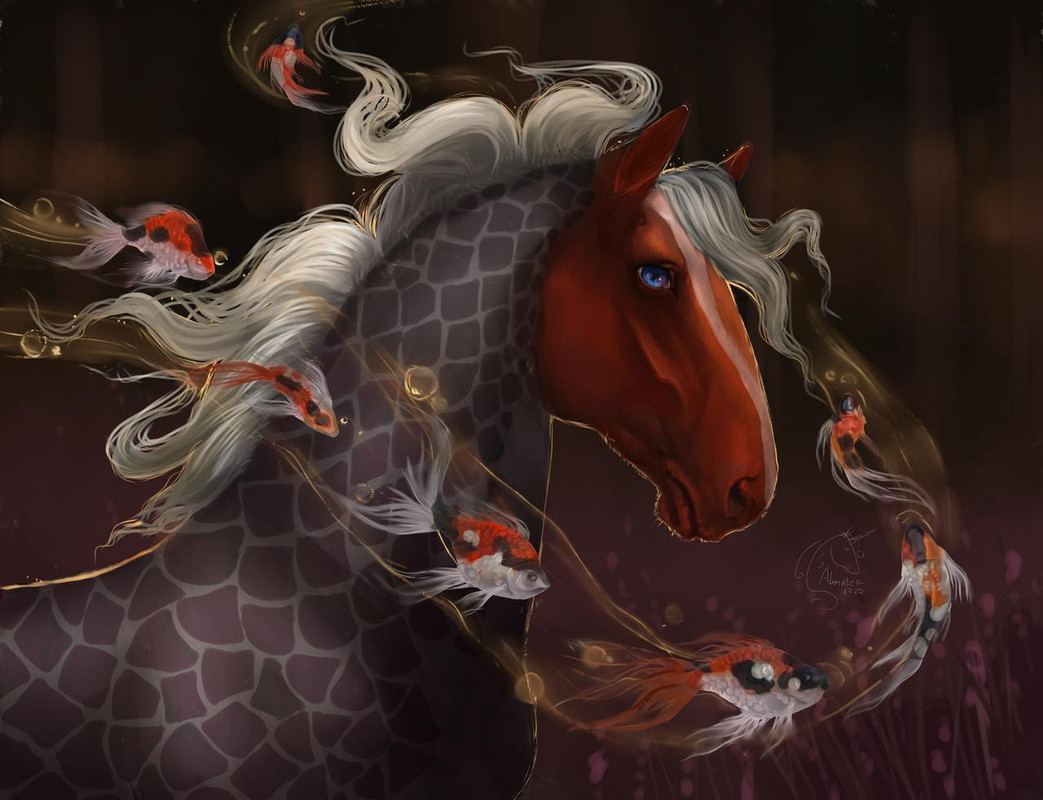 Image by Almatea-Art
@[The Monsters] Kindly mess with Dave's water aura